Welcome to the New Zealand Association
of Primary Science Educators

The NZAPSE is a branch of the New Zealand Association of Science Educators (NZASE). Our role is to celebrate science in Primary Schools and to enhance the teaching and learning of science at primary level. The NZAPSE runs an annual Primary Science Week in Term 2 proving an opportunity for all New Zealand schools to engage in science learning.
Primary Science Week 2022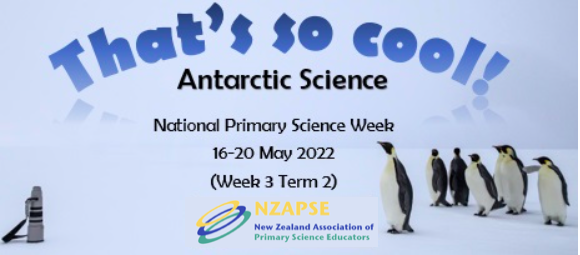 16 – 20 May 2022
Our theme is
That's so cool!
Antarctic Science

We are working with several organisations to produce an exciting range of activities, webinars and resources to support the teaching of this topic. All details will be uploaded to the Primary Science Week 2022 page.
PLD for Primary Science Week
Keep an eye out for the PLD we will be providing to support Primary Science Week.
NZAPSE Newsletters
Each newsletter will contain useful resources and teaching activities.
Term 4 2021 available now – Including information and dates for Primary Science Week 2022, exciting PLD from NZASE in 2022 and several activities to aid your planning.
Topics and links to newsletters can be found here.
Improving Science Teaching: Ideas from the Education Review Office
Have a look at these three reports from information collected from schools around New Zealand. See what schools have done to improve their teaching.
These reports can be found here
Science in the Early Years: Early Childhood and Years 1-4

Shining a Light on Science: Good Practice in Early Childhood Services

Growing Curiosity: Teaching Strategies to Engage Years 5-11 Students in Science
(if it happens again)
If you click this link you will find a range of experiments, activities, resources and helpful hints that were useful when teaching online. They are still useful now you are back in the class room. Resources will continue to be added, so come back soon to see what is new.
Professional Development for Primary Teachers 2021
You can apply to MoE for PLD for your school. Deadlines to apply for Regionally-allocated PLD for 2021: 19 Feb, 14 May, 6 Aug, 29 Oct (end of week 2). A panel meets by week 7 and lets schools know week 8 so you can contact your PLD facilitator & plan to start delivery in the following term. https://pld.education.govt.nz/ . (Wellington is full) For help with this process we have some helpful information on this page of the website.
Don't Forget
Questions and Answers
Here is a chance for you to ask those questions about Primary Science that you can't find the answers to yourself. Click on this
page
for all details as well as questions asked by others.
Centrally Funded PLD for Primary Science
Do you need help to revamp your Science programme? Are you new to the role of lead Science teacher? There is funding available to support you. Go
here
to find all the information you need and where you can get help in this process.